Website Template Design : Sites with more than one brand
You have a main 'parent' brand, and other sub brands, as part of your business model. Or simply services and products that are different and sell best once they are separated.
Whilst the easiest option is to have several sites, you may choose to include them within one. This is fine, if there is to be one shared navigation and the brands can work together.
Multi Brand Template Design
The main issue with the site design is how much the main 'parent' brand is visible, when you are in the sub branded areas.
How different is it from the home page design? It can be very different.

Or it can be very similar, with a subtle difference of the added sub brand logo or design element:
Pros to being similar:
- Website design costs are kept to a minimum
- The main brand is not diluted

Cons to being similar:
- It may not make it clear that the sub brand is separate enough , with its own focus and staff
- Users may not realise what brand content promotes, if the designs differ too little
Graphical representation of your options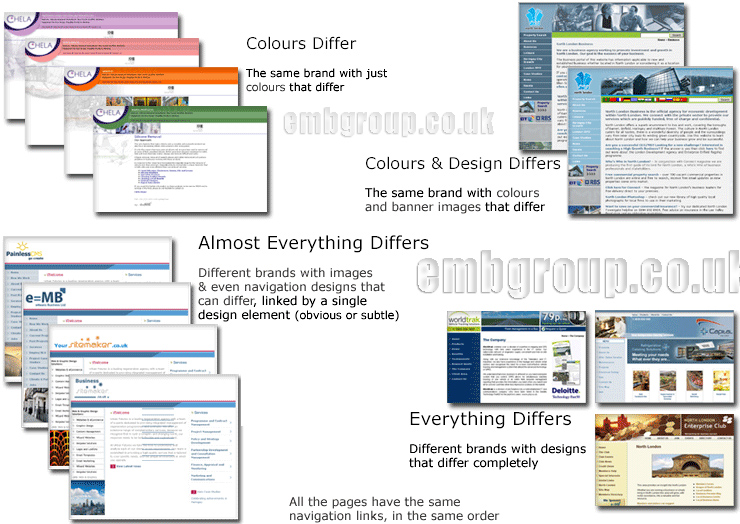 Our staff can discuss your business model and advise
---
How the navigation works with multi brands
We can provide a site with several types of navigation, all driven by the CMS. There can however, be one of each per site. Other hand coded links can be provided, but they will be harder to keep updated.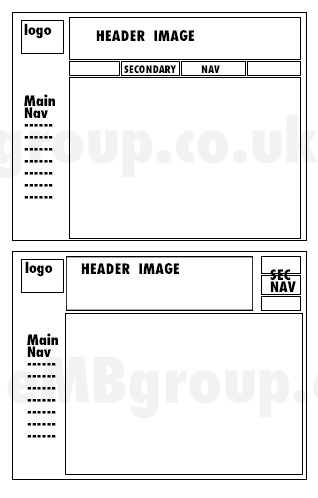 The alternative is a separate site for the other brand:
Pros to a separate website:
- Each brand can have its own, easy to adjust, separate navigation
- Each site is Focused solely at the brand, for users and search engines
- The domain for the brand is seen in the address bar, whilst keeping the site search engine friendly

Cons to a separate website:
- It costs more, however we can do a deal, especially if the site design is similar
- Administrators have to log into a different admin for each separate site
Graphical representation of how navigation works using only one site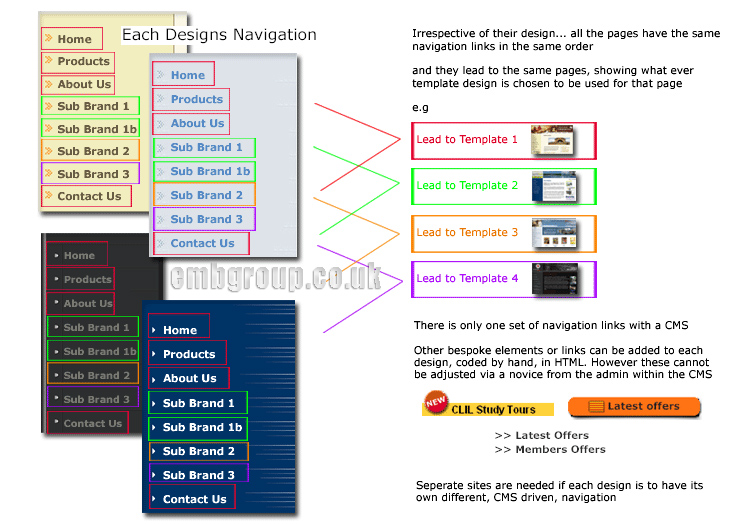 Our staff can discuss your preferences and advise
---
Navigation limitations with a CMS
For the Content Management System to create a new navigation link in moments, each item has to be identical to the rest. Square and one after the other, without interruption. Other buttons or image links can be added, by hand, above or below the real navigation.
Graphical representation of how navigation works within a CMS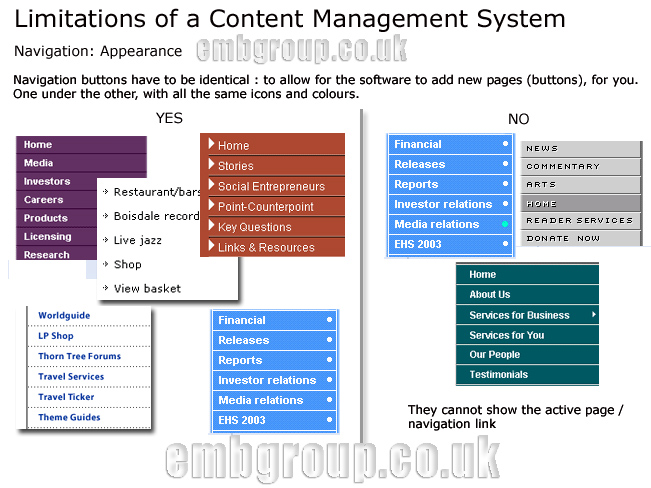 Our staff can discuss your preferences and advise
---